When it comes to trading courses, there are two main options for new or potential traders, paid trading courses or free trading courses. Naturally, the main difference between these two options is the fact that one course is paid for while the other is free. Paid trading courses are courses in which you pay a fee in exchange for information and training in the world of trading crypto and forex.
These finance courses can be highly beneficial for anyone from experienced traders to complete beginners looking to get into the world of trading. In contrast, free trading courses are courses in which you will still receive information and training to prepare you for the trading market, however this will all come free of charge. While the information and experience of the course may not be as professional or advanced as a paid course, you will still learn important skills that will help you greatly in your trading endeavours.
Is it worth to join any paid course?
One of the major benefits of going for a paid trading course is the quality of information and training you will receive. If you are a beginner trader or someone looking to get into the world of trading, then a paid trading course will give you everything you need to begin your trading journey and start making money immediately. From basic skills and knowledge to more advanced ideas and methods, a paid trading course is the perfect place to start for any trader. Additionally, if you are an already established trader then you may already be familiar with the basics of trading and are looking for more detailed information. In this case, a paid trading course would be a great option to take you to the next level in the trading world.
Another major advantage of paid trading courses is the advanced material they will teach you in relation to the trading world. Many customers of paid trading courses will already be knowledgeable about how does forex or stock trading works and how to make money from it, but they will want to take their knowledge to the next level and truly maximise their profitability in the trading world. A paid trading course will provide customers with unique insights and trading methods that will allow them to not only make more money, but also to learn more and more about the intricacies of how the trading world works. Essentially, a paid trading course is the ideal option for any trader who knows the basics but wants to learn more and become a highly skilled and successful trader. Whether you are an experienced trader or a complete beginner, check out any of the paid trading courses available to you today and you will not be disappointed.
The Best Free Trading Courses For 2022
While paid trading courses can be very beneficial for traders, there are also many highly beneficial free trading courses available to new or existing traders. Free trading courses can offer everything available from paid trading courses, without the fee. Additionally, there are many reasons why a free trading course may be more beneficial than a paid trading course, for both beginners and experienced traders.
1. The Trading Game – Shares & Forex Trading Game
 This stock trading game was founded in 2013 – with a simple mission: to simplify financial information for the everyday consumer. Since then, millions of members from all over the world have been able to take control of their personal finances and find tools, strategies, resources and information that allow them to successfully manage their money so they can live the lives they want.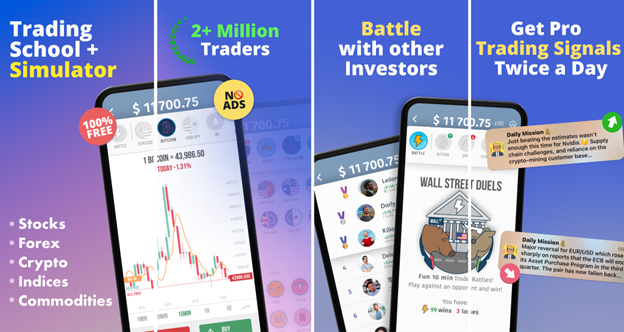 2. Investopedia – Investing, Finance, News
Investopedia is one of the best sites for investors looking to educate themselves about different aspects of the investing world, home loans and mortgages. If you are studying accounting or economics at university, then you might trust this resource to give you an accurate picture of how finances work. Even those who have never spent time in class can easily use Investopedia as a great place to learn the basics of each topic without feeling overwhelmed by complicated financial jargon that other resources use.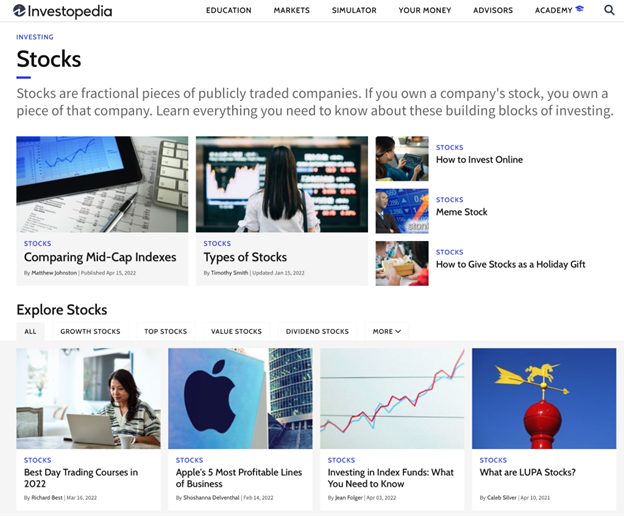 3. GoForex – Forex Trading For Beginners
GoForex – Forex trading for beginners is all in one trading simulator and school. Studying the basics of currency exchange and crypto trading is a difficult, but there are actually ways to make learning fun & easy. One way in particular is by taking advantage of a simulator like GoForex, where traders are be able to practice what they learn in an authentic virtual market environment that functions similar to other markets around the world. You'll also learn how to spot patterns so as to gain insight into what makes markets tick and how you can apply this understanding going forward in real-life scenarios.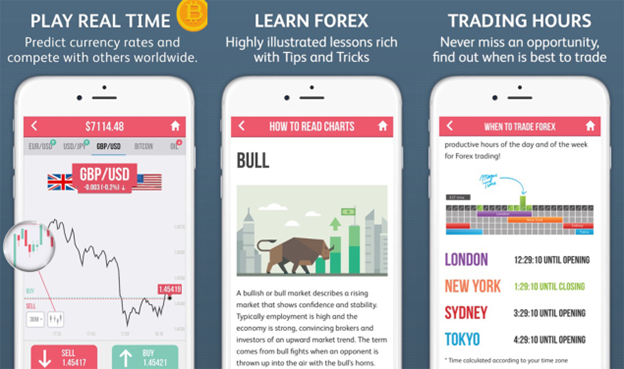 One of the major advantages free trading courses have over paid ones is the fact that they do not charge a fee for the course. This not only makes them much more attractive for traders who want to receive high quality information and trading without having to spend a lot of money. Often the reason a person wants to start trading is to make more money, and therefore the last thing they want to do is spend a large amount of money before they even start trading. Additionally, trading should be something that people can enjoy, and therefore traders are much more likely to enjoy a trading course when they are not worried about having to pay a fee beforehand or afterwards. Hence, a free trading course is a highly beneficial option for anyone interested in trading, especially those who are complete beginners.
Another major benefit of free trading courses is that the information and training provided can be just as good as what is provided in paid trading courses. While it is assumed that a paid course would provide much more valuable information, often traders can get just as much benefit from a free trading course. Additionally, a free course can be easier to engage with for beginners or experienced traders, as they may not feel as much pressure to take in every piece of information, they are given like they may feel in a paid trading course.
Furthermore, another highly beneficial element of free trading courses is that they can be much more welcoming and easier to participate in for beginner traders. Often people who are complete beginners to trading can be fearful of doing any trading courses due to their lack of knowledge. This is especially seen when it comes to paid trading courses, and therefore for these individuals a free trading course is a much more suitable option. In addition to this, often the information in free trading courses is not necessarily less advanced than in paid courses, but it is easier to understand and is not overcomplicated. This makes the information much more appealing for someone who is entirely new to the world of trading. Hence, a free trading course would be the perfect option for beginners to trading, as it will help them master the basics before moving on to learn more advanced skills and tricks that they can use in their own trading endeavours.
Ultimately, both paid and free trading courses can be highly beneficial for traders of all levels. Whether you decide to go for a paid or free course, you are guaranteed to receive high-quality information as well as tips and tricks that will help you to become a master trader and make as much money from trading as possible.